About
Olympic View Elementary School
Welcome to Olympic View Elementary, a community of joyful, active learners who are supported and challenged to reach their full intellectual, social, emotional and physical potential.
As members of a learning community comprised of parents, students, staff and our greater community, we work together to foster a love of learning by building upon the natural curiosity of childhood, and encouraging exploration and discovery in order to develop healthy, responsible, contributing world citizens.
Our diverse learning community nurtures the development of the whole child through a strong academic program infused with art, drama, movement, music, technology and social skills instruction. At Olympic View students, parents and staff experience success everyday! Want to know more about Olympic View? Start by exploring this website or by emailing Principal Andrew Bean at ajbean@seattleschools.org!
Mission
To ensure all students have access to the academic and social-emotional skills and tools to succeed in the world as responsible, inclusive, anti-racist, and empathetic global advocates.
Vision
Olympic View provides a welcoming, and inclusive environment for all students, regardless of race, ethnicity, gender identity, sexual orientation, or religious affiliation. Staff delivers rigorous, relevant, and culturally responsive teaching through strong collaborative relationships with all students, their families, and the whole community.
Land Acknowledgement
We at Olympic View acknowledge that we are on the original homelands of the Coast Salish Peoples, specifically the Duwamish Tribe. We recognize these Peoples as the original stewards of this land and honor all indigenous people and their histories.
Olympic View Elementary School Highlights
Active PTA
Independently Run On-Site After School Care (Collaboration Station)
Instrumental Music for 5th Graders
Multi-Faceted Physical Education Program – Everything From Archery to Zumba
Multi-Arts – Engaging variety of art and dance lessons including an Art Docent program
Drama Production Annually
Hands-on, Inquiry-Based Science
Technology Integrated Library
Bilingual Instructors fluent in Amharic, Spanish, Somali, and Tigrigna
Directions and Map
Our school is located in northeast Seattle (see Directions & Map) with Green Lake to the southwest and the home of Seattle's new hockey complex and our home team, The Kraken, to the northwest.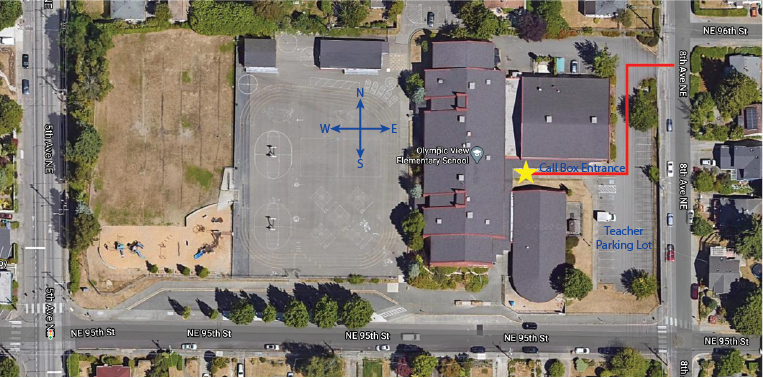 How to sign up:
To receive The Eagle via email, please call the office at 206-252-5500 or email Administrative Secretary, Crystal Parry at cnparry@seattleschools.org.
How to place an article in The Eagle:
Contact Crystal in the Main Office, or email article to cnparry@seattleschools.org, by noon the Wednesday before.